Parcel 1366 Information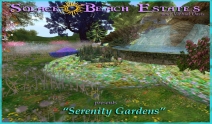 Parcel Description
Find your serenity on this beautiful green sim. Serenity Gardens has parcels for every budget.
Parcel Information
This is a 6,400 square meter parcel.
It has 2,929 prims.
This parcel costs 2,929 linden per week (tier fee).
It is located on Serenity Gardens, a light covenant zoned sim with a woodlands theme.
Visit Parcel
To teleport to this parcel, Serenity Gardens (119, 219, 24), Click Here.
Similar Parcels