Parcel 2410 Information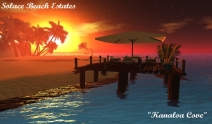 Parcel Description
Kanaloa is the Hawaiian god of the ocean. Looking for your beach paradise? Rent a parcel on this gorgeous Homestead and experience beauty and privacy.
Parcel Information
This is a 8,192 square meter parcel.
It has 625 prims.
This parcel costs 999 linden per week (tier fee).
It is located on Kanaloa Cove, a residential zoned sim with a tropical theme.
Visit Parcel
To teleport to this parcel, Kanaloa Cove (96, 212, 22), Click Here.