Parcel 2605 Information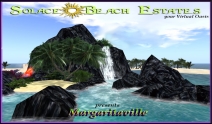 Parcel Description
Waste away again on this tropical region. We'll help you find your lost shaker of salt. Margaritaville offers a nice mix of lagoon view budget lots, and luxury ocean view larger parcels. Every lot here is beautiful; come see for yourself!
Parcel Information
This is a 4,608 square meter parcel.
It has 1,758 prims.
This parcel costs 1,758 linden per week (tier fee).
It is located on Margaritaville, a residential/small business zoned sim with a tropical theme.
Visit Parcel
To teleport to this parcel, Margaritaville (24, 153, 21), Click Here.